It is amazingly beautiful here this morning.
We have had two major storms swing through leaving us 12 inches of snow on the ground. White, clean and inviting- as I look out my window it continues to fall. We were blessed yesterday by having public school canceled-meaning one of my children was able to stay home with us instead of having to go to school
(she was very excited and we did the, 'no school dance', for the first time. )
This has been one of the hardest years for us with homeschooling, due to our adoption through foster care, we have been forced to send one to public school and one to preschool 2 days a week. It has taken away our freedom- as now we have to follow the schools schedule and time tables. Freedom is such a blessing that we so often take for granted, as a daughter of a man who lived under communist control in his beloved country, I have a special fondness for 'freedom.'
Truly I don't have anything against the public school. It is not for us though-we know, know, know what we are called to and quite frankly we know that there is to be no division among us. (meaning all of us will be homeschooled.) However, now that the state is still ultimately parent, we do as we are told. We are praying for wisdom, asking God to tell us what will be best for our kindergartener when she is adopted in March-being so close to the end of the school year. (really it is not that close in my mind, as they end, in the end of JUNE!) sigh.
Last week we were blessed by another, 'school vacation.' Now mind you we were not on vacation, we have never chosen to follow their schedule, but it meant our precious 5 year old was with us. We did lessons in the morning- preschool-kindergarten stuff with 2 of the 3 little ones. My older girls worked on the lapbooks for Ireland, did their regular lessons, finished up some library books. Later they took the little three out in the fresh new snow and made two new snowmen.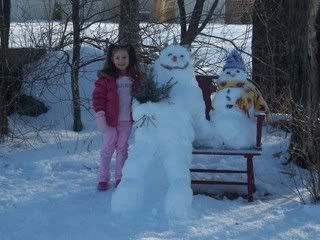 My poor puppy-all 110 lbs of him is freaked out by these yard invaders. I guess they look abit menacing in his puppy eyes.
As I unloaded him out of the back of our "tank," (what we have dubbed our largest vehicle- actually 'Katrinka the Tank," in the formal)- he leapt out barking and growling . One snowman was on one side of the yard and one postitioned about 40 feet away, on the opposite side of our driveway. Well, 'Silly, Silly , Bunter' ~(one of Hunter's many nicknames given by the kids) leapt out of the tank and positioned himself between these two aliens who had invaded our sanctuary. He turned to bark at one and then quickly would spin to make sure the other 'bad guy' wasn't sneaking up for a rear attack~a barking spinning 110 lb. dog, certainly there is something joyful about that! He was very adamant about his need to protect us from these huge white, scarfed creatures. Nice to know that he is on top of the situation, Silly, Silly Bunter.
This morning he taught those 2 a thing or two, he got brave and snuck up to steal their carrot noses. Now they won't be able to smell his approach, next maybe he will eat their attire, naked snowman, hmmm.
The fresh snow reminds me of one of my favorite bible verses. I used it on my business cards for my soap making business... 'many moons ago'.. .prior to having such a large brood.
Psalm 51:7
Cleanse me with hyssop, and I will be clean;
wash me, and I will be whiter than snow.